Aotearoa New Zealand Social Work is an international, open access, peer-reviewed journal that provides a platform for research, analysis and scholarly debate on social work theory, policy and practice.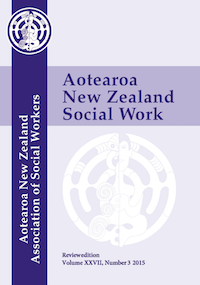 Announcements
General Call for Submissions 2017

A general call for submission of articles to the open access journal Aotearoa New Zealand Social Work

Posted: 2017-09-13
More...

Call for papers : Women in Social Work

Special issue proposal: Women in social work- practice, policy, education and research

Kia ora, Talofa lava, Kia orana, Mälö e lelei, Fakaalofa lahi atu, Bula vinaka, Namaste, Malo ni, Halo ola keta, Mauri, Fakatalofa atu, Kia ora and Warm Pacific Greetings

Posted: 2017-06-26
More...
Vol 29, No 2 (2017): Special issue
The renaissance of critical and radical social work?
Full Issue
| | |
| --- | --- |
| View or download the full issue | PDF |
Table of Contents
Editorial
| | | |
| --- | --- | --- |
| | Fraser Heather, Liz Beddoe, Neil Ballantyne | 1-5 |
Original Articles
| | | |
| --- | --- | --- |
| | Christine Morley, Phillip Ablett | 6-18 |
| | | |
| --- | --- | --- |
| | Hannah Blumhardt, ATD Fourth World UK, Anna Gupta | 19-33 |
| | | |
| --- | --- | --- |
| | Angelika Papadopoulos | 45-55 |
| | | |
| --- | --- | --- |
| | Clement Mapfumo Chihota | 56-68 |
| | | |
| --- | --- | --- |
| | Ang Jury, Natalie Thorburn, Ruth Weatherall | 69-82 |
| | | |
| --- | --- | --- |
| | Sarah Eleanor Elliott, Kelsey L Deane, Barbara Staniforth | 83-95 |
| | | |
| --- | --- | --- |
| | Margaret Pack, Peter Brown | 108-118 |
| | | |
| --- | --- | --- |
| | Stefanie Dobl, Liz Beddoe, Peter Huggard | 119-130 |
Commentary
Viewpoints
Book Reviews
| | | |
| --- | --- | --- |
| | Christine Fejo-King, Peter Mataira | 149-150 |
| | | |
| --- | --- | --- |
| | David Wastell, Susan White | 151-153 |
| | | |
| --- | --- | --- |
| | Lisa Nandy, Caroline Lucas, Chris Bowers | 154-155 |