Aotearoa New Zealand Social Work is an international, open access, peer-reviewed journal that provides a platform for research, analysis and scholarly debate on social work theory, policy and practice.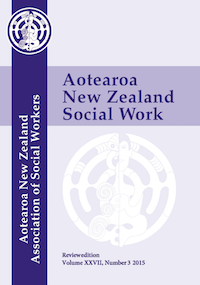 Announcements
Tu Mau- extended date for submissions

A new call for papers- special issue to be edited by Yvonne Crichton- Hill, Tracie Mafile'o and Analosa Veukiso-Ulugia
Posted: 2020-05-09
More...

Mental health and addictions

ANZSW call for papers Mental Health and Addictions (MHA)

Posted: 2020-04-20
More...
Vol 32, No 4 (2020)
Full Issue
| | |
| --- | --- |
| View or download the full issue | PDF |
Table of Contents
Editorial
| | | |
| --- | --- | --- |
| | Carole Adamson, Simon Lowe | 4-7 |
Original Articles I
| | | |
| --- | --- | --- |
| | Polly Yeung, Nicole Robertson, Lucy Sandford-Reed | 8-25 |
| | | |
| --- | --- | --- |
| | Nik Taylor, Heather Fraser, Damien W. Riggs | 26-39 |
| | | |
| --- | --- | --- |
| | Ricarda Lietz, Ksenija Napan | 40-54 |
| | | |
| --- | --- | --- |
| | Atsuko Matsuoka, John Sorenson, Taryn Mary Graham, Jasmine Ferreira | 55-68 |
Research Briefs
Viewpoints
| | | |
| --- | --- | --- |
| | Letitia Meadows, Karen Howieson, Tessa Bashford, Brooke Silke-Atkins | 84–88 |
Original Articles II
| | | |
| --- | --- | --- |
| | Joanna Appleby, Barbara Staniforth, Caroline Flanagan, Clarke Millar | 103–115 |
| | | |
| --- | --- | --- |
| | Sharnee Diamond, Chrystal Jaye | 116–130 |
| | | |
| --- | --- | --- |
| | King Lok Kan, Helene Connor, Liz Beddoe | 131–144 |
| | | |
| --- | --- | --- |
| | Trish Van Katwyk, Veen Wong, Gabriel Geiger | 145–157 |
| | | |
| --- | --- | --- |
| | Natasha Oliver, Liz Beddoe, Carole Adamson | 158–171 |
Book Reviews